How to improve your remote employee's engagement up to 96%
Introduction
Working remotely, your employees feel a distance from the rest of your team. This can make it harder for them to feel connected. There are ways to improve this, however! Here are some tips on how to enhance engagement for remote employees:
Make your employees feel that they are heard
Most remote employees feel they're not being heard when they have an issue or raise a question. They think it is harder to make their voice heard and have answers to their question. To fight that, your need to work on different things, among them accessibility, responsiveness, and trust.
Accessibility is making sure your Support team is accessible so that your remote or on-site employees can easily reach them on different media, no matter where they are and what they are doing where they need to ask a question. Deploying a support channel like a helpdesk, Virtual Assistant (chatbot), or opening a support channel on teams can be an excellent way to make sure they can contact you virtually at any time.
But accessibility without responsiveness doesn't create trust, which is paramount to improving engagement.
Being responsive when someone reaches out to you with an idea or concern is crucial. And taking time to respond with empathy is decisive. But guaranteeing a swift response to anyone who reaches out to you requires much more than goodwill; it requires good processes, organization, and support tools. Investing in support solutions that automatically redirect requests to the right person, depending on their skills and workload, and tracking SLA (like the Time to Answer) can help your team stay organized and ensure all your employees will have an answer in less than a few days.
Survey their mood and act on the data
The best way to know your employees' level of engagement is by asking them, for instance, through surveys that capture how they feel about their work environment, colleagues, managers…
Managers and HR teams often informally survey the mood of employees, making sure everything is going well when seeing each other at the office. In the workplace, asking simple questions about one's attitude or engagement comes naturally. However, it can be hard when you're not in the exact location as everyone else. So how do you know if an employee is satisfied and engaged? We recommend having regular surveys sent to your employees.
Questions like "Do I have enough resources to complete my work tasks?" or "Does my manager provide me with sufficient feedback?" are essential to measuring your employees' engagement. We also recommend creating "space for feedback," general surveys, or "feedback boxes" accessible on your intranets and digital workplace interfaces to capture spontaneous feedback at all times.
When you receive responses from your staff members' surveys, use this information to inform the decisions you make about managing remote teams effectively. And most importantly, COMMUNICATE on the data and the ACTIONS you will take on those data regularly. No one likes answering questions knowing the results won't be acted upon.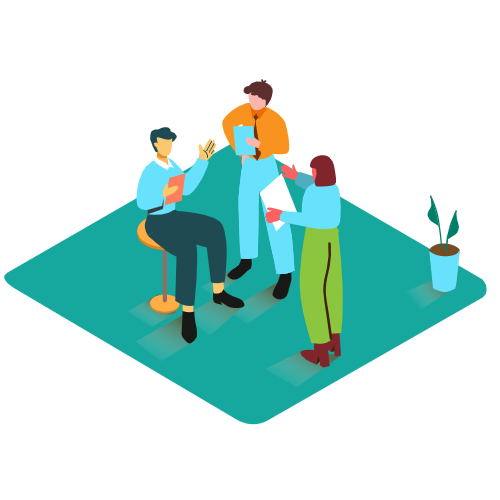 Make knowledge accessible, give them the tools they need to do their job
Provide them with a place to ask questions —and make sure it's easy for them to access the knowledge and information they need to do their job. At some point, they need to be able to access remotely all the information people can access on-site if you don't want to create an "Experience discrepancy."
Moreover, ask your remote employees what resources would help them most in their role so that you can provide those resources in an easy-to-find format. A self-service HR platform is an excellent way to satisfy this need. It can enclose all your HR files, forms, and knowledge and let your employees access it at all times, but don't close all support communication channels because you offer them self-service tools. Always allow them the opportunity to reach out to you if they need or consider their issue is too personal.
Conclusion
Improving remote employee engagement can be done by:
Ensuring they stay connected and you stay accessible at all times
Providing them with qualitative tools and making knowledge and information accessible to help them do their job from anywhere
Surveying their mood and acting upon their feedback
Being reactive while they have issues and questions.
Focusing on those four elements, our customers successfully improve their overall employee experience, ensuring their remote employees stay engaged, reaching an average employee satisfaction of 96%. Let's talk if you are interested in enhancing your remote employee engagement!